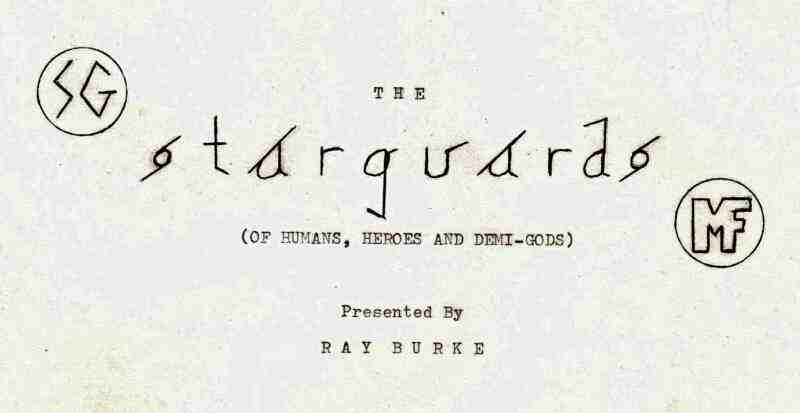 THE STARGUARDS

OF HUMANS, HEROES AND DEMI-GODS

THE STARGUARDS ARE THE NEW GENERATION OF CELESTIAN KNIGHTS WHO MADE SURE THEIR OFFSPRING SURVIVED WHILE THEY PERISHED IN THEIR DOOMED UNIVERSE AND WAR WITH THE LORE.

THE STARGUARDS ARE PROTECTORS OF THE SURVIVNG POPULATION OF CELESTIANS AND NOW LIVE IN THE MAGNA AURA SYSTEM IN A NEW UNIVERSE. BUT LITTLE DO THE STARGUARDS KNOW THAT THE LORE HAVE FOLLOWED THEM AND ARE BENT ON DESTRUCTION AND DEATH. THE STARGUARDS ARE ALL THAT STAND BETWEEN THE DESTRUCTION OF ANOTHER UNIVERSE. AND THEY ARE NOT READY!

AERL the SCEPTRE

LIGHT WIELDER -CONTROL OF LIGHT ENERGY

THE SON OF SOLA VENGA AND IRIA. NOMINAL SECOND IN COMMAND OF THE STARGUARDS. LIVES ON MILLENNIUS CITY-STATE, AN ORBITING SPACE CITY.

THE TITLE -SCEPTRE- COMES FROM HIS POWERS RESEMBLING THAT OF MILLENNIUS' SCEPTRE OF LIGHT.

ALTAIR

LIGHT WIELDER

HALF-BROTHER AND COUSIN TO AERL AS SON OF AURON AND IRIA. THE BROODING ALTAIR IS HOT HEADED AND NOT ABOUT TO GIVE AERL ALL THE SATISFACTION OF BEING SECOND IN COMMAND.

ALSO LIVES ON MILLENNIUS CITY-STATE.

URANA (nicknamed RAIN)

PLASMA ENERGY

COUSIN TO AERL AND ALTAIR, SISTER OF CIRRIUS (NO PICTURE). DAUGHTER OF HYPHON AND ULTRA ARI.

THE EXTROVERTED URANA USES PLASMA ENERGY WHICH INSTEAD OF MANIFESTING AS CONSTANT RAYS COME OUT LIKE RAIN DROPS OR SHARDS, HENCE HER NICKNAME.

HER BROTHER CIRRIUS, CONTROLLER OF AIR, IS THE FOUNDER OF THE SKY WARRIORS. HE LIVES ALONE ON AN ISLAND AND IS RARELY SEEN IN PUBLIC.

THE ALPHATRONIUS CLAN

THE WARRIOR CLAN CHILDREN OF ALPHATRONIUS AND THE GODDESS ELYSIUS.

THEY ARE NEXUS WARRIORS -ABLE TO SUMMON WEAPONS FROM AN OTHER-DIMENSION POCKET. THEY WEAR THE BLACK OF DEATH AND THE RED OF BLOOD.

-----------------------------------------

DECION

WEAPON: THE LANCESWORD

SECOND OLDEST OF THE SONS OF ALPHATRONIUS, AFTER NOVAN (No picture). NOVAN IS UNLIKE THE OTHERS, WITH FEATHERY WHITE HAIR AND WHITE ARMOUR LIKE HIS MOTHER. HIS POWER IS ALSO OF A PSYCHIC NATURE. HIS FATHER WAS DISAPPOINTED IN HIM FOR NOT BEING LIKE HIM, SO SHOWERED HIS DEVOTION ON DECION (MEANING 'THE WORTH OF TEN WARRIORS') AND MOULDED HIM IN HIS IMAGE.

DECION LEADS BY EXAMPLE AND AGGRESIVENESS AND IS COMMANDER OF THE STAR WARRIORS. HE LIVES ON ALPHATRONIUS CITY-STATE, THE OTHER ORBITING CITY.

ALPHA RION                                                                                 ASTARA

WEAPONS: TWIN ENERGY META-SWORDS                                         WEAPON:  BLACK NEXUS SWORD

ADORED BY THE YOUNGER GENERATION OF MAGNA AURANS FOR THEIR LOOKS, ALPHA RION (MEANING 'FIRST AMONG HUNTERS' AND ASTARA (MEANING 'PRINCESS STAR DESTROYER') ARE RATHER SHY, PREFERRING TO KEEP THEIR OWN COMPANY. TO A DEGREE THEY ARE CONTROLLED BY DECION, THEIR MENTOR, BUT EVENTS WILL TAKE A TURN AND EACH WILL HAVE TO SEARCH FOR THEIR DESTINY.

ASTARA IS ALSO THE PROTECTRESS OF STATE TO PLACIA, HER CHOICE OF HOME.

ALPHA RION WAS ORIGINALLY CALLED GOTH, HENCE ALL THE BLACK, BLOODRED AND CROSSES. ONE OF MY FAVOURITE CHARACTERS.

SOLANDER

YOUNGEST OF THE ALPHATRONIUS CLAN. MORE LIKE HIS MOTHER AND NOVAN. LEFT MAGNA AURA TO PURSUE OWN PATH IN UNIVERSE AND HASN'T BEEN HEARD FROM SINCE.

-----------------------------------------

AZURE

DEB GALAGAR

LORE MAIDEN -CAN DETECT AND DESTROY LORE BY ABSORBING AND REFLECTING THEIR POWERS.

MEMBER OF THE SKY WARRIORS, UNTIL SHE LEARNED OF HER HERITAGE. ORPHAN, BUT CONSIDERS COMDR. GAL AGAR A FATHER FIGURE.

NO LONGER CALLED ARIEL DACH

-----------------------------------------

CHALANT

TERA ZaVOIR the ARCHERESS

LONG LOST SISTER TO MINDSCREAM

PARTNER TO ALPHA RION

TERA GAINED HER POWERS FROM THE PSI-BEINGS, CHRYRIANS, IN ANCIENT EGYPT. USING HER POWERS SHE LEFT HER VILLAGE TO TRAVEL AND HAVE ADVENTURES. WHEN SHE RETURNED, SHE FOUND HER VILLAGE DESTROYED AND HER TWO BROTHERS MISSING. SHE NOW TRAVELS THE WORLD IN SEARCH OF THEM, NOT KNOWING THAT AARON (MINDSCREAM) IS IN THE FAR FUTURE.

TERA HAD MANY ADVENTURES WITH THE IMMORTAL EXMOORS -ALLIES TO THE ASTRALS. IN ONE EXTRA-DIMENSIONAL ADVENTURE SHE WAS NAMED CHALANT  AFTER AN ANCIENT GODDESS- IN HONOUR OF HER COURAGE.

WINDBURST

AN OLDER AND WISER ZANE

SOMEHOW ZANE ENDED UP WITH THE STARGUARDS. SORRY CAN'T TELL YOU WHY OR HOW.

THE ORIGINAL STARGUARDS

TOTAL CHANGE. SOME COSTUMES ARE FAMILIAR FROM OTHER CHARACTERS.

THE FAMILY HISTORIES OF CELESTIAN KNIGHTS, STARGUARDS, AND ASTRALS WITH OTHER FACTIONS, FROM OTHER BOOKS, ON THE RIGHT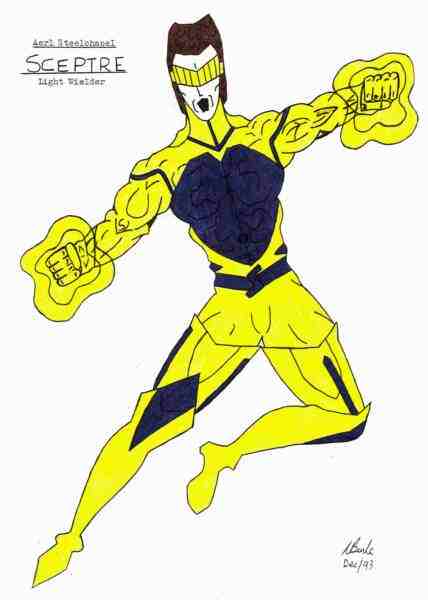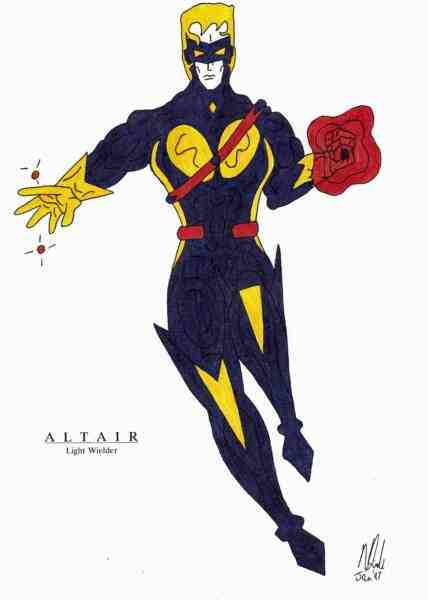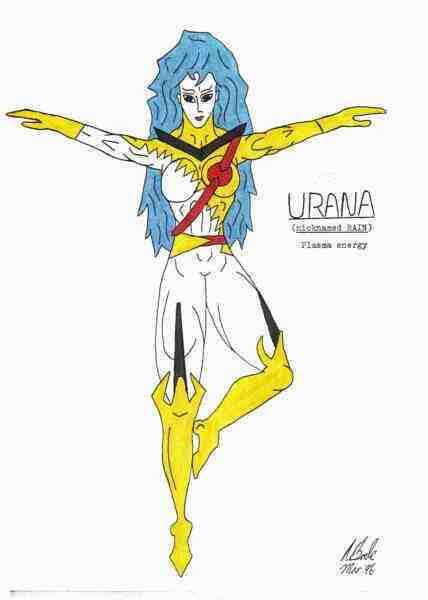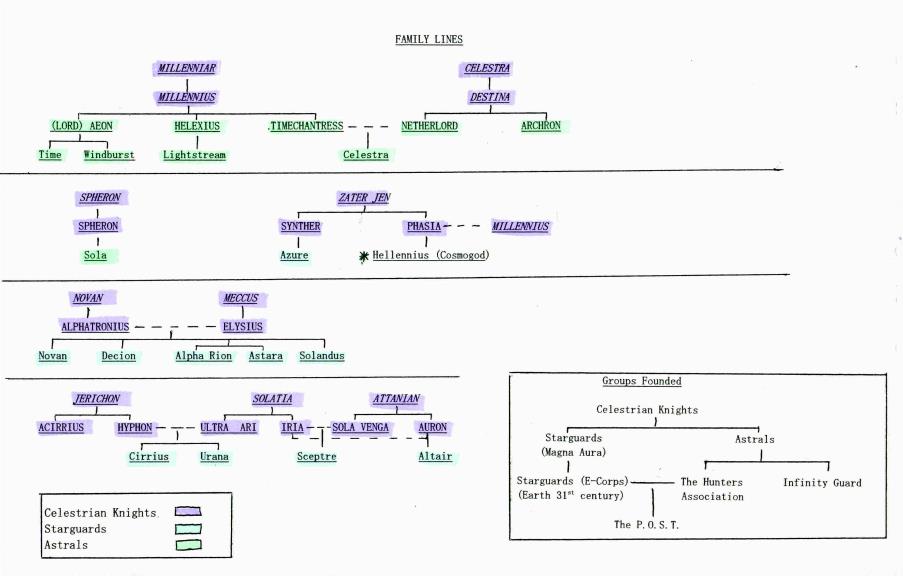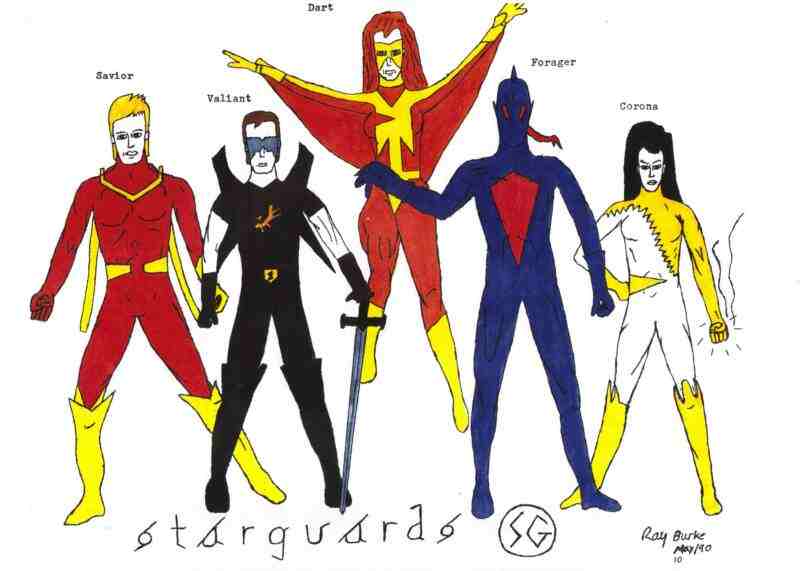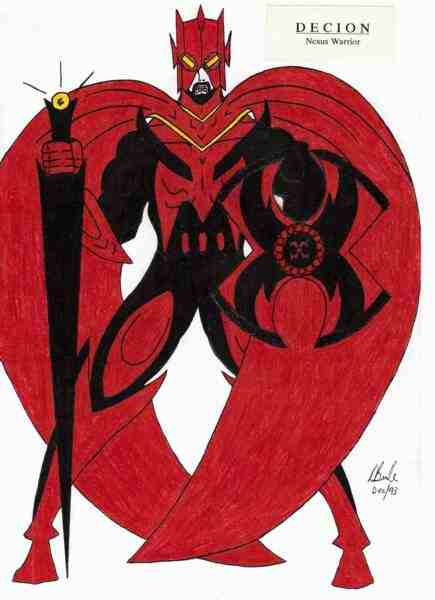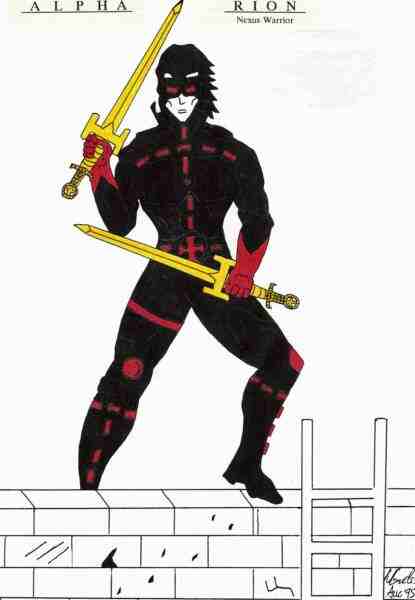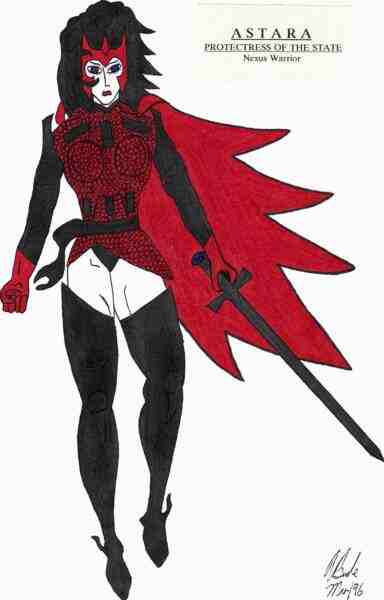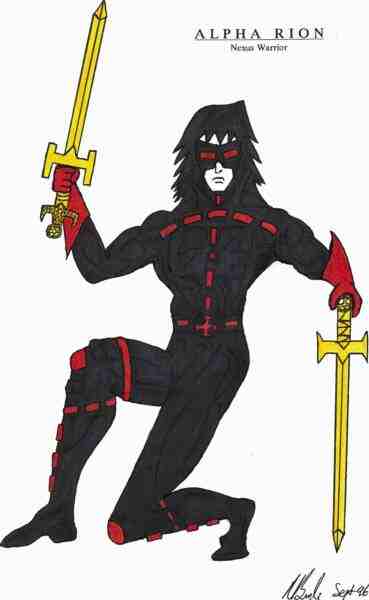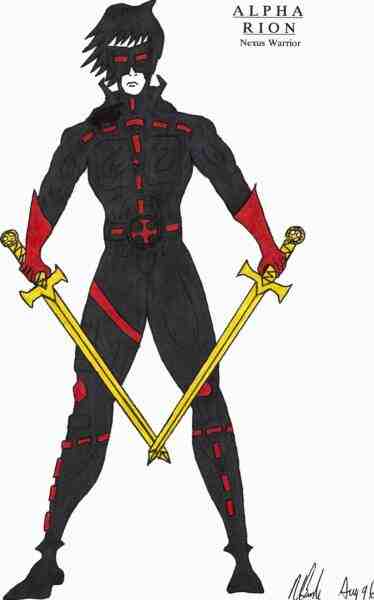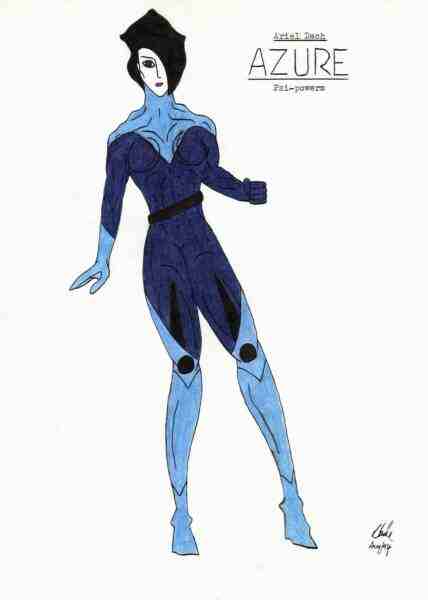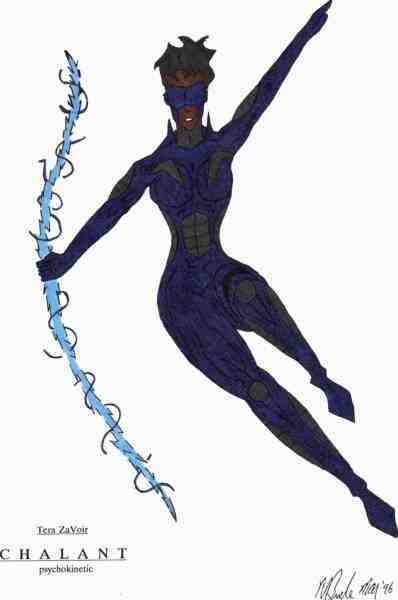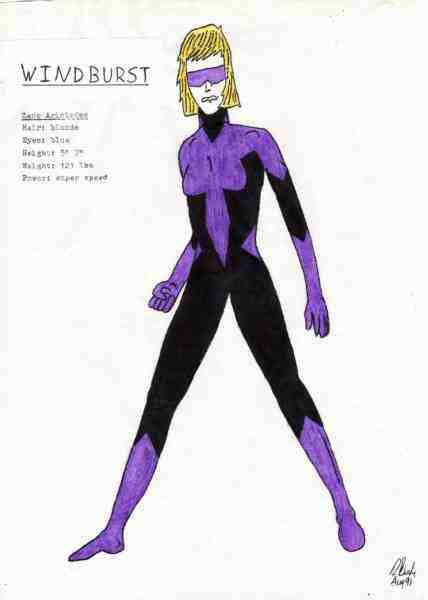 SAVIOUR POPS UP IN ANOTHER GUISE IN BOOK 2.

SOME OF FORAGER BECAME WARPER